High Rise Window Washing
Harper's High Rise Services high rise window cleaning services include window cleaning and window condition inspections of residential and commercial buildings.
Harper's High Rise Services is a locally owned and operated window cleaning company in Brevard County, located in Titusville, Florida.
We specialize in high-rise and mid-rise window cleaning for office buildings, condominiums, free standing business buildings, corporate headquarters, and any other hard-to-access structure.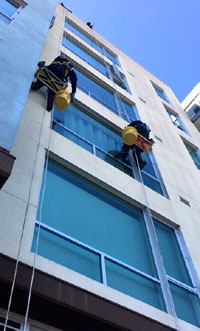 Give us a call at (321) 480-9515
for your high rise window washing
High Rise Pressure Washing
Here in Central Florida coastal areas like Brevard County the climate can wreak havoc on buildings. High rise buildings especially, accumulate dirt, debris and mold.
Regularly scheduled pressure washing combats these chronic and eye sore issues. As an added benefit, high rise washing services will extend the life of paint and windows, saving on building maintenance in the long run.
Harper's High Rise Services high rise pressure washing services include, shopping malls, office buildings, hospitals and medical facilities, warehouses and other facilities. We also handle residential buildings like condominiums, multi-story homes and civic buildings.